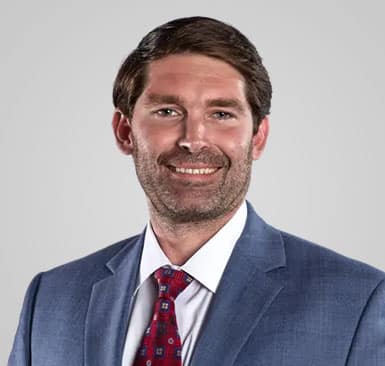 Drew McCulloch, Esq.
"Drew is extremely personable, persistent, resilient and reliable. I have never had to speak with no one but him directly at all hours, day or night on his personal cellphone. He has been handling a very unique high conflict family case for me. It's a highly unique case involving severe mental illness on my behalf. He has never judged or given up on me. He has truly spent the time to listen to my special mental disability and has pushed a very compassionate yet aggressive approach to fight on my behalf. Absolutely highly recommended."
- Haley
---
"Drew is very professional and acts intentionally. He provides realistic expectations and follows through on his responsibilities. Recently we hired Drew for a case dealing with both a state criminal defense case, as well as some issues with the Department of Health. Through Drew, I was able to achieve best case scenario, and a significantly reduced sentence compared to similar offenders. I fully recommend and endorse Drew, he's a class act."
- Michael M
---
"Drew not only has a great name, he is in fact one of the sharpest lawyers I have the pleasure of calling my friend. Always willing to go the extra mile, Drew is well respected and certainly deserving of an endorsement here."
- Drew Daddono, Unknown Attorney
---
"I have had the opportunity to co-counsel multiple cases with Mr. McCulloch. Not only are his legal skills top-notch, but his care and concern for his clients is unmatched. He diligently returns phone calls and maintains communication with his clients throughout the entire legal process. I would highly recommend Mr. McCulloch to anyone looking for an attorney."
- David Carter, Criminal defense Attorney
---
What Makes Attorney Drew McCulloch Uniquely Qualified To Represent You?
Drew has handled 1000's of criminal matters and 100s of trials in Florida since 2010. Born and raised in Tampa, Drew attended Tampa Preparatory High School and then graduated from New College of Florida, The State's Honors College, in Sarasota. During Law School at the University of Florida, Drew interned as a student law clerk for both State and Federal Judges in Tampa and worked as a certified legal intern at the Hillsborough County State Attorney's Office.
At the State, Drew was able to conduct voir dire (jury selection) and prosecute criminal jury trials before he graduated from law school. It was during this later experience that he came to understand the invaluable litigation experience that was, in large part, available only in the underpaid and sometimes undervalued government sector. Drew has been licensed to practice law in the State of Florida since 2010 and licensed in the Federal Middle District of Florida since 2016.
Directly after law school, Drew began working as an Assistant State Attorney in Tampa with a focus on jury trial litigation. As a prosecutor, Drew selected more than 75 juries and tried over 100 cases to verdict. Following more than four years with the State Attorney's Office, in 2014, Attorney Drew opened his solo practice, McCulloch Law P.A. in Tampa, FL with a focus on Criminal Defense, DUIs, and Personal Injury. Today, McCulloch Law P.A. has a focus on assisting victims injured by the negligence of others. Drew also brings justice to light each day, through his dedicated representation of the accused in criminal defense cases.
Personal Injury Attorney / Criminal Justice Attorney Drew continues to remain active in the local legal community. Drew served as an officer and director on the Board of Directors for the Hillsborough County Bar Association's Young Lawyers Division from 2016 – 2020. For many years, Drew served on the Tampa Preparatory School Alumni Board, as Vice-President and became President of the Board in 2021. As President of the Tampa Prep Alumni Board, Mr. McCulloch sits on the Tampa Prep Board of Trustees and is very involved with the Tampa Prep community.
When Drew isn't in Court, he enjoys spending time with his wife and daughters, playing team sports, participating in local events as a member of Ye Mystic Krewe of Gasparilla, and giving back to the community.
Education
Gerald T. Bennett Prosecutor/Public Defender Training Program – (2012)
J.D – University of Florida, Fredric G. Levin College of Law – (2010)
B.A – New College of Florida – (2006)
Work Experience
Managing Partner – McCulloch Law, P.A. – (2014-Present)
Prosecutor – Hillsborough County State Attorney's Office, Tampa, Fl – (2010-2014)
Certified Legal Intern – Hillsborough County State Attorney's Office, Tampa, Fl – (2010)
License
FL – Licensed for 12 Years
"Drew is extremely personable, persistent, resilient and reliable. I have never had to speak with no one but him directly at all hours, day or night on his personal cellphone. He has been handling a very unique high conflict family case for me. It's a highly unique case involving severe mental illness on my behalf. He has never judged or given up on me. He has truly spent the time to listen to my special mental disability and has pushed a very compassionate yet aggressive approach to fight on my behalf. Absolutely highly recommended."
- Haley
---
"Drew is very professional and acts intentionally. He provides realistic expectations and follows through on his responsibilities. Recently we hired Drew for a case dealing with both a state criminal defense case, as well as some issues with the Department of Health. Through Drew, I was able to achieve best case scenario, and a significantly reduced sentence compared to similar offenders. I fully recommend and endorse Drew, he's a class act."
- Michael M
---
"Drew not only has a great name, he is in fact one of the sharpest lawyers I have the pleasure of calling my friend. Always willing to go the extra mile, Drew is well respected and certainly deserving of an endorsement here."
- Drew Daddono, Unknown Attorney
---
"I have had the opportunity to co-counsel multiple cases with Mr. McCulloch. Not only are his legal skills top-notch, but his care and concern for his clients is unmatched. He diligently returns phone calls and maintains communication with his clients throughout the entire legal process. I would highly recommend Mr. McCulloch to anyone looking for an attorney."
- David Carter, Criminal defense Attorney
---