When you've been involved in an automobile accident, your life can be turned upside down in an instant. Florida law provides that you are entitled to be compensated by the at-fault driver for your injuries and the damage to your vehicle.
In Florida, you have only 14 days to seek medical attention or else waive important insurance benefits. This is just one reason to consult with an attorney as soon as possible following your automobile accident. The attorneys at McCulloch Law, P.A. are here to determine what insurance benefits are available and make sure you receive the maximum compensation for your auto accident.
Following an auto accident, it is important to call the police and ask for a police report. Make sure the police get the other driver's driver license and insurance information. You'll also want to document the accident by taking photographs of the scene of the accident, your vehicle, and the at-fault driver's vehicle; this evidence may be of great use in your case against the at-fault driver. If you've been injured in the accident, seek the appropriate medical treatment to not only receive the necessary treatment, but also in order to document your injuries. The insurance companies may reach out to you to take a statement or offer you money to drop the case; in no event should you speak to any insurance company without an attorney. This is why it is important to call an attorney as soon as you can to make sure your rights are protected.
Why Hire An Auto Accident Lawyer?
McCulloch Law, P.A. offers free consultations to victims of automobile accidents. Our attorneys can come to you for your consultation at your home, the hospital, or anywhere that is convenient for you. Additionally, we will take your injury case on a contingency fee basis, meaning that you'll never owe us money for legal fees unless you win your case.
If you've been injured in an automobile accident, the medical bills and lost wages can start to pile up, causing stress on you. Let the experienced attorneys at McCulloch Law, P.A. take the burden off of you and start working to make you whole again.
The attorneys at McCulloch Law, P.A. have experience handling auto accident cases in Tampa, St. Petersburg, Clearwater, Brandon, Riverview, and most surrounding areas of the Greater Tampa Bay Area. We are licensed to practice law throughout the entire State of Florida.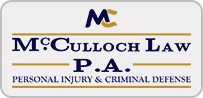 Call A Law Firm That Cares, 24-7 For A Free Consultation - (813) 444-2817