What Is Burglary?
Unlawful entry with the intent to commit a crime.
In Florida, burglary is the unlawful entry of a dwelling, structure, or conveyance owned by another, with the intent to commit a crime. It also applies to when the accused stays in the dwelling after permission has been revoked and maintains the intent to commit a crime. Burglary is a first-degree felony that can result in life in prison, depending on the severity.
What Is The Difference Between Burglary And Trespassing?
If you've found yourself in a tricky situation regarding burglary and trespassing, you need an experienced lawyer on your side. While the two charges are related, there are key differences between the two that our attorney can distinguish between, navigating you toward the best possible outcome.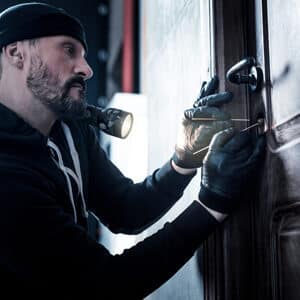 Burglary and trespassing are closely related, but the key difference is the severity of the two. Burglary is unlawful entry with criminal intent and is charged as a felony. Trespassing is unlawful entry but without the intent to commit a crime, making it a misdemeanor.
The Consequences Of Possession Of Burglary Tools
With the intent to commit a burglary, it is illegal to carry the tools that the action would necessitate. This includes tools, such as crowbars, lock picks, ropes, masks, explosives, and more. Each jurisdiction has a different definition for what exactly is considered a burglary tool. This situation can go either way – be ruled as a misdemeanor or a felony – and can result in incarceration, probation, fines, and restitution.
Trespassing In Structure Or Conveyance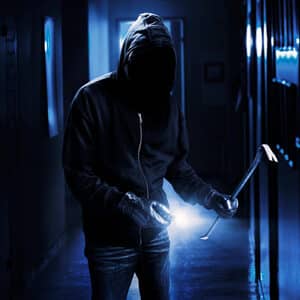 Florida law defines trespassing in a structure or conveyance as the willful entry or remaining on a property without permission of the owner. However, it also applies when a person was previously invited onto the property but refuses to leave after permission is revoked. This is typically ruled as a second-degree misdemeanor and is punishable by up to 60 days in jail.
Trespassing On Property Other Than A Structure Or Conveyance
When someone trespasses on property other than a structure or conveyance, they are subject to punishment defined as up to a year in jail and $1,000 in fines. The court must prove that the accused went on and stayed on a property that they did not have explicit permission to be on.
Trespassing On School Property With A Firearm Or Weapon
The tension surrounding today's societal climate and school safety is at an all-time high, making trespassing on school property with a firearm or weapon a serious offense. This is defined as entering or staying on school property while you do not have any business or authorization to be there. This is a third-degree felony punishable by up to five years in prison and a $5,000 fine.
Trespassing On School Grounds Or Facilities
When a person is on school grounds without legitimate business or explicit authorization, they are not to remain after being directed to leave. Should they not leave, they may be subject to the consequences as a second-degree misdemeanor, serving up to 60 days in jail and paying a $500 fine.
Consequences
Trespassing On School Grounds Or Facilities After Warning By Principal Or Designee
Trespassing on school grounds or facilities after a warning by a principal or designee is a more serious offense. This means that the accused stayed on the property after being told to leave the campus or not to enter. This escalates the situation to a first-degree misdemeanor, which is punishable by up to a year in jail or probation, as well as a $1,000 fine.
The Consequences Of Placing Signs Adjacent To Highway
When it comes to placing signs adjacent to the highway, there are some detailed guidelines, meaning they are all too easy to violate. The proper permits must be acquired, and the sign placement should not obstruct the view of road signage. In order to fight a charge regarding signage adjacent to the highway, you need a well-versed lawyer who is familiar with the intricacies of Florida law.
The Consequences Of Breaking Or Damaging Fences
Breaking or damaging fences is characterized as criminal mischief – better known as vandalism – and is the act of willful and malicious destruction of property belonging to someone else. Damage done to fences can result in felony punishment, depending on the severity of the situation. This means, if there is proof of malice, the penalties can range from a second-degree misdemeanor with 60 days in jail to a third-degree felony punishable up to five years in prison.
What Is Unauthorized Entry Upon Land?
The unauthorized entry upon land in Florida is pretty self-explanatory. It is entering or staying on land that is not owned by the accused without legitimate business being there. It's also known as trespassing. This is typically defined as a misdemeanor.
The Consequences Of Trespassing With Larceny Of Utility Services
Trespassing with larceny is unlawfully and knowingly entering a dwelling or facility without explicit permission and stealing properly. If the accused is found guilty, they may be subjected to the punishment of a first-degree misdemeanor, resulting in a fine that is equal to three times greater than the services obtained or $1,000 – whichever is greater.
The Consequences Of Impairing Or Impeding Telephone Or Power To A Dwelling To Facilitate Or Further A Burglary
Impairing or impeding telephone or power to a dwelling to facilitate or further a burglary is when a phone wire line has been damaged or equipment for transmission has been impaired with the intention of completing or facilitating a burglary. This is a felony of the third degree.
Are You in Need of a Burglary and Trespass Criminal Justice Lawyer in Tampa, FL?
Burglary is a felony and trespass a misdemeanor – both with undesirable consequences. Let our Criminal justice lawyer at McCulloch Law P.A. in Tampa, FL guide you through the legal system to help you get the results your livelihood depends on.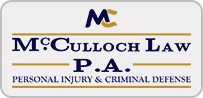 Call A Law Firm That Cares, 24-7 For A Free Consultation - (813) 444-2817