We Provide Full-Service Legal Representation
With the hopes of getting you the best possible results.
You may not think it's worth hiring an attorny for a traffic-related incident, but the truth is, hiring an attorney to handle your criminal traffic violation, regardless of the severity, can save you money and result in a more favorable outcome than self-representation. We provide full-service legal representation with the hopes of getting you the best possible results and minimal punishment.
Criminal Traffic Violations
Driving Under The Influence Of Drugs Or Alcohol (DUI)
DUI With Drugs Or Alcohol Involving Property Damage, Death Or Injury
Driving With License Suspended, Cancelled Or Revoked
Driving With License Revoked As A Habitual Traffic Offender
Leaving The Scene Of An Accident
Reckless Driving
No Valid Driver's License
Expired Driver's License More Than 6 Months
Violation Of Driver's License Restriction
Aggravated Speeding Or Wanton Disregard
Racing
Plus Many More!
Are You in Need of a Criminal Traffic Attorney in Tampa?
Our lawyer is experienced in both the criminal and civil traffic sectors as a former persecutor and will help you create the strongest defense for your case. So, if you find yourself in need of a trustworthy defense attorney in Tampa, contact McCulloch Law today.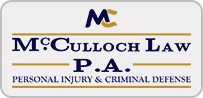 Call A Law Firm That Cares, 24-7 For A Free Consultation - (813) 444-2817