What Is Domestic Violence?
Intentional striking and touching with the intention of causing harm.
Domestic violence is the intentional striking and touching of a person without their consent, and with the intention of causing harm. This form of violence affects family and household members, including spouses, ex-spouses, peoples related by blood or marriage, peoples living together, and significant others.
Potential Consequences Of Domestic Violence Charges
Domestic violence cases can get complicated. But the penalties are clear cut, including:
Jail time
Community service hours
Loss of civil liberties
Probation
Are You in Need of a Criminal Justice Lawyer For Domestic Violence in Tampa, FL?
An accusation of domestic violence is not to be taken lightly. If you're in need of a Criminal justice lawyer for domestic violence in Tampa, FL you need experience on your side. Contact McCulloch Law P.A. today to learn more about what we can do for you.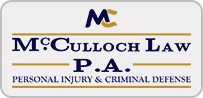 Call A Law Firm That Cares, 24-7 For A Free Consultation - (813) 444-2817