What Is A DUI?
Under Florida law, a DUI means "driving under the influence".
Under Florida law, a DUI means "driving under the influence". It must be proven that your "normal faculties" were impaired due to an unlawful blood alcohol or breath alcohol level. In the state of Florida, this is a .08 and above. Depending on the severity of the DUI, the accused may incur fines, community service requirements, probation, and imprisonment.
A single mistake such as a DUI does not need to define the rest of your life. A DUI in Florida is a serious matter that requires the skill and experience of a DUI attorney in Tampa. We will guide you through the DUI legal process and work around the clock to get you the outcome you deserve for your DUI.
Civil V Criminal Cases
With a DUI comes two separate cases – a civil one and a criminal one. The criminal case will handle the DUI charges made against you. While your driver's license suspension will be taken care of in civil. With a DUI you have just 10 days to deal with your license after your arrest, with your citation serving as a 10-day driving permit. During this time, you can request a formal review hearing or a hardship permit. After those 10 days, you may be subjected to longer consequences.
The Types Of DUI
DUI Civil Case
DUI Criminal Case
DUI (1st, 2nd, 3rd Offenses, Etc.)
DUI Involving Property Damage / Injury
DUI Refusal To Submit To Testing
DUI Penalties
DUI Boating Under The Influence
Plus More!
DUI Helpful Links
Florida Bureau Of Administrative Reviews
Have You Received a DUI in Tampa Florida?
If you've received a DUI in Florida, then it's time you call on a DUI attorney in Tampa, FL. Our team at McCulloch Law P.A. in Tampa, FL will work to protect you with exemplary representation for your DUI. So, contact us today to learn more about what we can do for you and your DUI.
More Information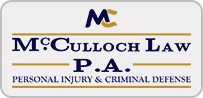 Call A Law Firm That Cares, 24-7 For A Free Consultation - (813) 444-2817