What Is Fraud?
The reliable team at McCulloch Law on your side.
The legal term, "fraud", encompasses a lot of different offenses. They include knowingly falsifying information with intent to commit a crime, including but not limited to:
Tax Fraud
Corporate Fraud
Federal Fraud
The variation of fraud charges can be extreme. From the wrongful use of a city name to falsifying legal documentations, you may be charged with a misdemeanor or a felony. So, there is a lot at risk, meaning you need the reliable team at McCulloch Law on your side.
What Are The Consequences Of Committing Fraud?
Without a great criminal defense team on your side, you're looking at some harsh penalties. Depending on the severity of the case, you could see criminal and civil repercussions, including repaying benefits, fines, and jail time. In some cases, you may even be prosecuted and face years of federal incarceration.
Are You in Need of a Fraud Lawyer in Tampa FL?
If you've been accused of fraud, it's time to take action. You need a lawyer you can trust on your team. So, contact McCulloch Law today to learn more about how we can assist you and get the best result possible for your case.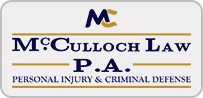 Call A Law Firm That Cares, 24-7 For A Free Consultation - (813) 444-2817